The best of the last week in STS across the interwebs, by your crack team of American Science bloggers.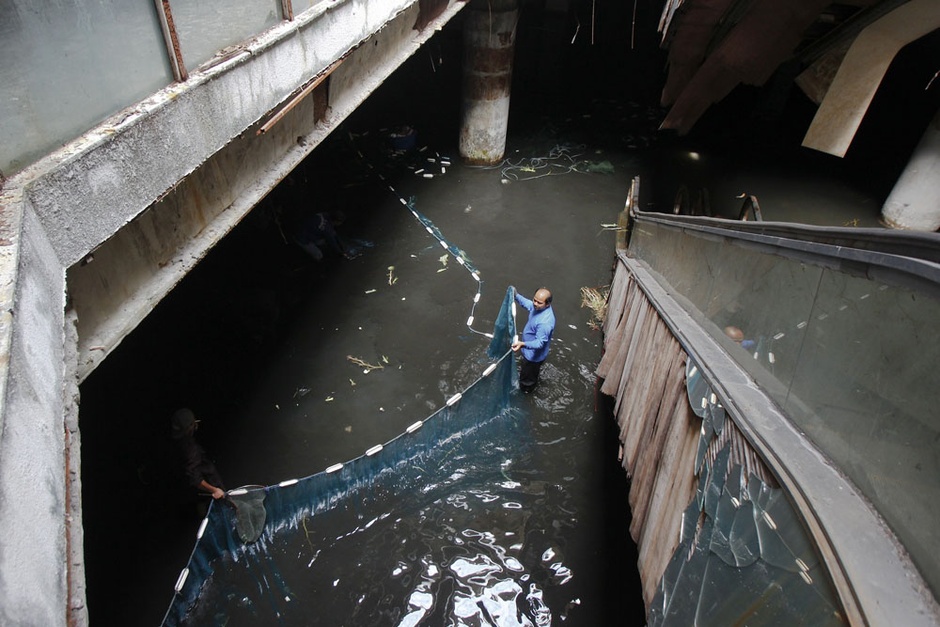 A worker holds a fishing net inside an abandoned department store in Bangkok January 13, 2015. (REUTERS/Chaiwat Subprasom)
"When you are outside of a secrecy regime, you can't always see why it acts the way it does, and it is easy to see it as an oppositional entity designed to thwart you. Peeling back the layers, which is what historians can do many years after the fact, often reveals a more subtle and complex organizational discussion going on." The newly-released full transcripts of the Oppenheimer security clearance hearings, with the censor's original markup, reveal relatively little that historians don't already know about Oppenheimer himself but a lot about the processes and consequences of government secrecy, writes Alex Wellerstein. (Here's Wellerstein's description of how he discovered the transcripts.)
Bern Porter's career spanned the Manhattan Project, cultural critique through collages of found objects, and treatises on the unification of science and art. Check out MoMA's digital exhibition of some of his work.
Remember when the weekly links were dominated by stories about Ebola? Here's a throw back: As Ebola vaccine trials get underway in West Africa this week, it is worth thinking about the relative value of biomedical intervention versus investments in health care personnel and infrastructure.
Check out this recently released brochure for a Japanese architecture firm's "deep sea future city" concept, called Ocean Spiral. The plans—still in the conceptual stage—feature a small multistory city enclosed in a 500 meter in diameter glass sphere, which is sustained on resources like aquaculture and the exploitation of hydrothermal vents for energy. The designers also envision a desalination plant and a facility that somehow reuses carbon dioxide emissions.
OH—loudly—in a Pasadena coffee shop last week: the following phrases, over the course of a 45-minute interview.
"Let's have some cognitive ecstasy today!"

"I'm a fan of the cyborg anthropologist who coined the term 'technospatial wormhole'—a philosophical thought built on engineering reality!"

"'Contact' is one of the best films of all time, bro."

"It's a hypothesis, but I think it's beautiful. I made a video about it for AOL."
Turns out the speaker's name is Jason Silva. He is the presenter of Brain Games on the National Geographic Channel, he calls himself a "performance philosopher," and The Atlantic describes him as a viral-video Timothy Leary.
And a C.F.P. from a G.F.O.B.: a conference at Stevens Institute of Technology on the legacy of Frederick Winslow Taylor.